Middleweight Design Engineer - July 2016 
Curventa have spun out a new company called Beyond Twenty, and we are looking for some fresh talent to help drive our breakthrough product to market. You will be working in the Studios of Curventa and Beyond Twenty a stone's throw from the OXO Tower on London's Southbank.
We are currently seeking an experienced Middleweight Industrial Designer with 3+ years experience. An impressive individual who'll bring creativity, passion, people skills, and the ability to lead creative teams in an inspiring way. You will be an active mentor to your peers and help to galvanize and grow BeyondTwenty's talent while developing highly innovative design solutions that translate consumer insights and trends into compelling product experiences. 
What is it all about?
(1) YOU'LL BE CHALLENGED
. Every organization talks about development and evolving your career, but here, it's part of the job description. You're going to show us what you're great at, and we're going to help you break into all the other things you've always wanted to do, from Design to Research to Branding and on and on. If you're insatiably curious and ready to give your career all you've got by stepping beyond the title on your business card, we'd love to chat.
(2) YOU'LL HELP BRING PRODUCTS TO LIFE
. Our product development is fast paced as we journey towards manufacture and launch. You don't mind getting your hands dirty and splitting your time between sourcing components, project management and design implementation. You're hopefully a great all rounder.
(3) YOU'LL BE A STICKLER FOR DETAIL
. Our product has many parts and different suppliers, and we need someone to help bring them all together at the same time, and foresee upcoming issues. Confident project management and liaison skills are a must.
(4) ASSEMBLE & TEST.
You'll have an aptitude for assembling and testing complex little mechanical assemblies to validate our product approach before going to production.
YOU CAN:
- Demonstrate the ability to think strategically, while developing a strong rationale for your design recommendations that are based on consumer, brand, and business rationale.
- Combine appropriate design methods, theory and content to address a particular business challenges.
- Lead the definition and development of new product offerings that deliver new value and achieve our  business objectives. 
- Create product solutions that embody a strong aesthetic sense and manifest a brand dimensionally in a way that stimulates people's senses and emotions.
- Have excellent form development ability, manifesting a brands tone and personality through product form.
- Demonstrate a mastery of technical skills: CAD - Solidworks; excellent sketching; colour, material & finish, rapid sketch development, prototyping,   and visualization in Keyshot or equivalent.
- Develop 3D digital surface models of high complexity and sophistication that are both aesthetically accurate and technically robust.
- Innovate within known high and low volume manufacturing techniques, specifying materials, construction, mechanisms, color and surface finish.
- Survey the work of other designers in the global design community to identify best practices, methods, tools and approaches.
- Project management experience a must - MS Project, Team Gantt, Wrike or Gantter
YOU WILL:
- Have a BA/BSC in Industrial Design or equivalent experience.
- Have at least 3+ years of experience in the capacity of an industrial designer producing work of the highest quality.
- Have previous experience working within a top design consultancy or corporation.
- Have experience of project management and organisation a must.
- Have a strong understanding of the human-centered design process.
- Have a strong capacity for critical thought and information synthesis.
- Have the desire to work in a fast paced environment with demanding deadlines.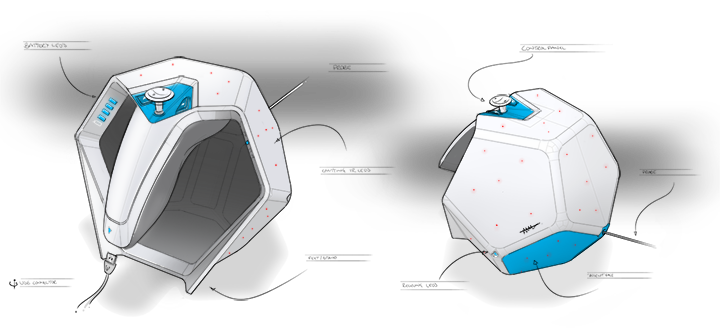 Application guidelines
Email
To ensure your application is considered please include any images of work that might be appropriate in a considered layout and send it in a single PDF format and under 5MB in size to vacancies@curventa.com.
If you would rather send a printed application please send it to:
 
Vacancies
Curventa
303 CargoWorks
1 - 2 Hatfields
London
SE1 9PG
United Kingdom
No phone calls please.
We are expecting a high volume of applications and are not able to respond to all of them, so please do not be offended if you don't hear back from us as we are looking for a very specific set of skills.
Working at Curventa
We offer a very relaxed and informal design studio experience, giving you the space and latitude to create great product experiences and outcomes. We push our clients boundaries and our own striving to create the best product outcomes and experiences for every client we engage.
We are situated just behind the OXO tower on the River Thames. With close proximity to London Southbank, Royal Festival Hall and the BFI and many bars and clubs, our central location means you can experience the best that London has to offer (and our team frequently do !).